Professional & trained Cognitive Hypnotherapist
I was born in Hemel Hempstead, Hertfordshire. I originally qualified as a Nursery Nurse (NNEB) and became a nanny for 11 years, mostly in Berkhamsted. Since then I have worked in PA, secretarial and administrative roles in the Corporate Sector, before training as a Cognitive Hypnotherapist. I also hold a diploma in Anatomy & Physiology.
I have always been motivated to help others. I felt intrigued when a friend of mine quit smoking through hypnotherapy. As I looked into this, I realised that it can help people in other areas of their life, not just smoking.
After having some sessions myself for confidence issues with great results, this led me to pursue formal qualifications.  So I am now in a position to help others as a Cognitive Hypnotherapist.  Which I find rewarding and extremely worthwhile.  I have seen the positive effects of hypnotherapy and how it can help to change people's lives for the better. I invite you to read some of my previous clients testimonials here:-
I trained for my diploma in Cognitive Hypnotherapy and as an NLP Master Practitioner with Trevor Silvester. Trevor founded the internationally recognised Quest Institute at Regents University in London and is a very well known author.
Previous to this, I trained for my diploma in Analytical Hypnotherapy with John Moonie. John is an established hypnotherapist and trainer at Hypno Perth in Scotland.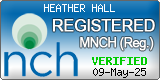 I'm registered with the National Council for Hypnotherapy (NCH), which is one of the UK's largest and most prominent organisation in the UK for hypnotherapists. Also the QCHPA which has had a research study published in the Mental Health Review Journal. This study shows very strong evidence that Cognitive Hypnotherapy really does work! These both adhere to a strict code of ethics and practice, which is a condition of membership. Membership also has a requirement that each therapist undertake a minimum number of hours of continuous professional development (CPD) each year. Each member must also be insured for Public Liability and Professional Indemnity. I am also registered on the UK Central Register of Stop Smoking Therapists (CRSST) as a stop smoking hypnotherapist.
I am committed to continuing my professional development so I can provide my clients with the most up to date and professional treatment possible.
I work in my hypnotherapist clinic in Hemel Hempstead. I also take appointments as a hypnotherapist in Berkhamsted at Carmenta Life and at No. 1 Harley Street in central London.
I am very happy to answer any questions either by phone 07761 586529 or email info@HeatherHallHypnotherapy.co.uk. There is no obligation to make an appointment.
In November 2015, I was nominated as a finalist in the Best Business Women Awards in the Health & Wellness category.